Play Type:" "  Layup Shooting Drill
Purpose
This is a great shooting drill that focuses on good passing, cutting and lay-up technique on the two-foot power lay-ups.  This is a variation of the 3-man weave basketball drill – it's three passes, three lay-ups.
Set Up
Begin the 3-man weave rotations.  Walk through them it – Pass, go behind. Pass and go behind.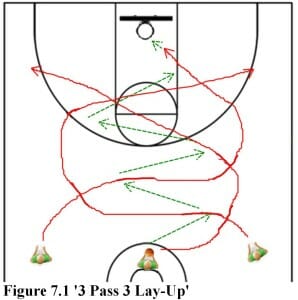 Execution
When the player catches it going in for a lay-up, the other two players are going to pass and get as wide as they can.
The player who shoots the lay-up is going to get his own rebound.
The first closest player will be over to the left, and he's going to step and come in for the two-foot power lay-up.
The player who passed it to him is now going to run out to the corner. He's going to wait for an outlet pass a little later in this drill. He's going to shoot his lay-up.
The third player comes in and he's going to shoot a lay-up and get his own rebound.
Here's where you make the outlet pass and throw it to the next player in line.
We already have a ball so the next group will start right away.
Coaching Tips
You want to start slow, then speed up later, after your players are getting the hang of it.
During this basketball drill, your players should be working on good passing, cutting, and lay-up techniques on the two-foot power lay-ups. This drill moves quickly. You get a lot of touches and a lot of shots.
Featured Product
If you want cut down your turnovers, improve your ballhandling, and develop a crisper, more effective offensive attack – then the Perimeter Skill Development Drillbook is just what your team needs!
Inside, you'll discover 21 simple, fun and effective drills for shooting, passing, and dribbling. You'll get instant access to an entire season of practice ideas for every age and competitive level… from basic fundamentals to advanced in-game strategies and tactics.
Best of all, it's delivered in PDF format, so you can get instant digital access… right over your computer screen, smartphone, tablet, or eReader… from anywhere in the world with an Internet connection!