During today's blog post, we're going to go over a number of ways that you can help to improve your team's basketball defense.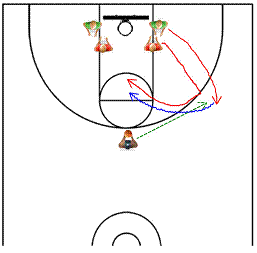 Bowl Drill
During this basketball defense drill, we keep two players in–one on each side. They will go through sometimes 10 or 12 offensive opponents just so they get the repetition over and over and over again.
It's a grueling drill because each offensive player that comes in is going to push him hard, get to the basket as hard as he can. And that means the defensive player has to be able to be ready to defend not one, not two, not three, but four or five or six players. It's a good chance to work on your live ball drills.
"The bowl" comes from the term that you're just like in a fishbowl; everybody sees you. The coaching staff sees you, your teammates see you. So there's a lot of pressure on this particular drill.
During this drill, remind your basketball defense that we're not trying to run and coast with him, run and run in position. You don't see sprinters running straight up.
One of the things that we think is important is that when the ball goes in the hoop when the defensive pressure has been good and the intensity has been good, then we don't base it on the end result. In other words, if it goes in, the defensive player didn't do a good job; and if it doesn't go in, then the defensive player did a good job.
On the contrary, we're liable to criticize a person's stance even if the person didn't make the shot because they either didn't challenge or they challenged with the wrong hand, or they didn't screen out, or they played with too much of a cushion.
So I think, like any teaching program, we're interested in the process first, the bottom line or the end result will take care of itself. But I don't think you can coach strictly on the basis of what happened at the end.
Sometimes you get fool's gold by thinking you did the job just because you stopped a shot; other times if something goes in the basket, it may have meant the defensive player did a great job. You just have to applaud the offensive player because he was able to make that score.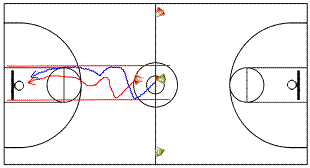 Free Throw Lane Extended Drill
With this drill, you'll have an offensive player who can't turn his back–he can't reverse dribble by turning his back.
This drill is done for two reasons. We want to be able to penetrate against the offensive player, but we also want to be able to make sure that we've got our eyes open and see all of our entry passes in our four-up offense. If we turn our back, we've lost momentary on our teammates.
The goal of this basketball defense drill is to stay within the free throw lane, extended, and the other extended free throw lane, and make it a one-on-one drill.
If you feel like these drills will help your basketball defense become better, be sure to check out my YouTube channel for even more defensive drills and pointers!