Play Type:" "  Defensive Drill
Purpose:
The offensive player's goals here is to take the ball as hard as he can to the basket, while the defensive player's try to defend the dribble for eight seconds.  You want to see a great battle of offensive talent and defensive talent.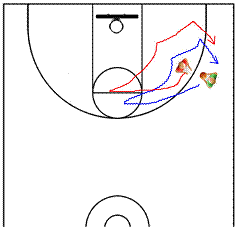 Execution:
If the offensive player gets through, instead of shooting it, he takes it back out again.
Continue to come back and attack him again for a period of eight seconds.
The defensive player will attack tenaciously, focusing on staying between the man and the basket.
Coaching Tips:
With this drill and others like it, we put an emphasis on is defense. If we play defense, then we're going to be in every game. But defense has to be played by all five that are on the court – five or six or eight more, depending on your team's size – ready to come in and pick up the same effort.
We don't give any fool's gold. Fool's gold means is if we're working at the defensive end and the offense just goes half-speed making the defense look good, that's fool's gold. We don't want to get a false sense of security of doing something right if our teammates aren't pushing as hard.
Stop penetration, challenge the shot, and screen out so that we give up no second shots – Those are our three components at the defensive end.
Featured Product
The Fast Break Domination package includes 22 drills and plays to help you speed up the tempo, and get tons of easy buckets in transition. In no time at all, you can transform your team into a fast break powerhouse, and start dominating your opponents with a fast-paced style of play.
Best of all, it's delivered in PDF format, so you can get instant digital access… right over your computer screen, smartphone, tablet, or eReader… from anywhere in the world with an Internet connection!